Mission
Red Horse Center for Collaborative Leadership is dedicated to strengthening collaborations for the greater good. We work with humans and horses, through mindful experiential learning and considerate leadership models to discover and empower positive change in the world.
Principles
The values we hold ourselves to and draw inspiration from to do our best work.
Choice, Respect, Trust, Non-violence, Mutual Benefit, Herd Dynamics, Softness
You're invited to watch our introductory video which shares a bit of our history and mission. You can watch it here or click through to our Youtube channel, where we will update with more interesting videos from time to time.
Click the button above to view or download a PDF of our introductory brochure, which describes our services and the groups of people we are most likely to help.
Fred Bueltmann
is our herd manager, and an author and independent consultant on company culture, the ideals of the craft marketplace and the connected lifestyle. He has more than two decades of experience as an executive in the beverage industry including service at New Holland Brewing Companies and Bell's Brewing Companies. Bueltmann is past president of the Michigan Brewers Guild and recipient of their prestigious Tom Burns Award, recognizing the pioneering spirit of the "Great Beer State." In 2019 he authored a collaborative book, "A Rising Tide – Stories from the Michigan Brewers Guild." Fred's first book, The Beervangelist's Guide to the Galaxy, was recognized as an Indie Book Award finalist. Fred shared his perspective in a TedX talk, "The Community of Collaboration" and regularly shares interviews and conversations on cultural shifts through his This Craft Nation project and podcast, and Michigan's Great Beer State Podcast, which he produces. Fred is a musician, as well as an instructor in Schoolcraft College's Brewing and Distilling program. Fred has been facilitating since 2002 and specializes in equine-assisted Organizational Development.
Ulla Frederiksen MA., LLP
Ulla is a psychologist, group facilitator, teacher and artist. Her private practice, The Sundance Center, specializes in client centered, solution- oriented & trauma-informed therapy for Highly Sensitive People. She strives to create a safe, fun and non-judgmental space for insight and healing to take place. Ulla has facilitated with horses since 2002 and has trained facilitators internationally since 2010.
Jenny Atlee
Jenny has worked in Central America since 1984 in the areas of human rights, trauma and recovery and international policy with Witness for Peace, the Guatemalan Church in Exile, Nicaraguan Ministry of Social Welfare, AFSC and the Quixote Center. She is the author of Red Thread; A Spiritual Journal of Accompaniment, Trauma and Healing which chronicles her experiences in the war zones of Nicaragua during the U.S. sponsored contra war. She has worked with the herd at Sundance Center and Red Horse Ranch as equine specialist and has been facilitating with horses since 2017.
Tom Loudon
Tom Loudon – worked in Central America for over thirty in the areas of human rights, sustainable development and international policy.  He worked with Witness for Peace, the Bloque Inter-Comunitario, American Friends Service Committee (AFSC-Quakers) the Quixote Center, the Alliance For Responsible Trade and served on the Commission of Truth in Honduras following the 2009 coup.  Tom has recently retired from the Migrant Workers program for the state of Michigan. He serves of the Board of Directors of the Nicaragua – United States Friendship Office.
Abena O. Apea
Abena O. Apea is a transformative leader with over 30 years of experience serving nonprofit and higher education organizations.  She is a skilled fundraiser with talent in strategy and program design.  In 2020, Abena founded FORO Global Partners, LLC, and helps forward-thinking organizations build resources, launch initiatives, and develop staff skills and talents. In 2021, Abena earned a certificate in Leading Diversity, Equity, and Inclusion from Northwestern University; she is a member of the 2014 Management and Leadership in Education Cohort at Harvard University's Graduate School of Education. Abena holds a Bachelor of Arts degree in political science from the University of Wisconsin, Madison, and a master's degree in public administration from Illinois Institute of Technology in Chicago. Abena is a board member at Chicago Fair Trade and the Red Horse Center for Collaborative Leadership.
Shawn Gary
Shawn started his beverage career 34 years ago with Kent Beverage Company.  Prior to that time he worked as a Soil Scientist performing soil interpretive work on the MX Missile as well as productivity yields for the Federal Government.  Throughout his career at Kent Beverage, Shawn has been involved in many different facets of the business, including but not limited to operations, brand management, branch management and various other corporate leadership roles. In the early 1990's Kent Beverage, thru Shawn's leadership, was on the forefront of bringing many of Michigan's craft brands to market.  Shawn became President of Kent Beverage in 2008.
In 2013 Alliance Beverage Distributing was created by combining B & B Beer and Kent Beverage to create one of the largest, most diversified wholesalers in the state.  Shawn served as president since the inception of Alliance until late 2020 when he stepped down as President.  Shawn continues to preside over the board and work on special projects for Alliance.
Gus
Augustus, aka Gus is a charmer. He runs with his sister Clara, however he's very much the ambassador of the two. He cracks people up with his good looks, mischievous personality and stylish "do." He is also a master butt-scratcher on the outdoor, arena benches.
Clara
Clara is Gus's sister, and often shows the quiet strength and resilience of a middle sibling. She likes to keep to herself and choose when she steps forward to engage. She'll entertain butt scratches and belly rubs, although she may be a little reserved about what she tells you.
Jericho
Jericho is a handsome brown and white paint who catches people's eyes with his colorful coat. He came to us when he needed to be retired from a performance barn as he has a long-term injury to his stifle (knee.) He's a sweetheart with a soft and warm personality. He's learned to take his time and he gets along just fine. Prince and the herd keep him exercising and healthy.
Prince
Prince's story is an epic one. We were involved with his dramatic rescue in 2016, saving the young stallion from a dire situation. He lived in a few supportive foster situations, including a stay at Red Horse, and Peace Ranch, before being adopted by our collaborators and board members, Jenny and Tom, who had first discovered him. Prince has grown through his trauma in remarkable fashion. He's the head greeter, herd leader and continues to connect with people and horses with his bright, curious and upbeat personality. Prince's story is one of healing and trust.
Roja
Roja came to us just as the polar vortex rolled in. She was living without a herd and in need of a new home. Working with Roja has been an enlightening journey. She's helped us accentuate the value of remembering to approach and engage, before leading. She's whip-smart, and eager to be one of the first to greet newcomers. Watching and feeling her choose to trust and say yes has been a privilege.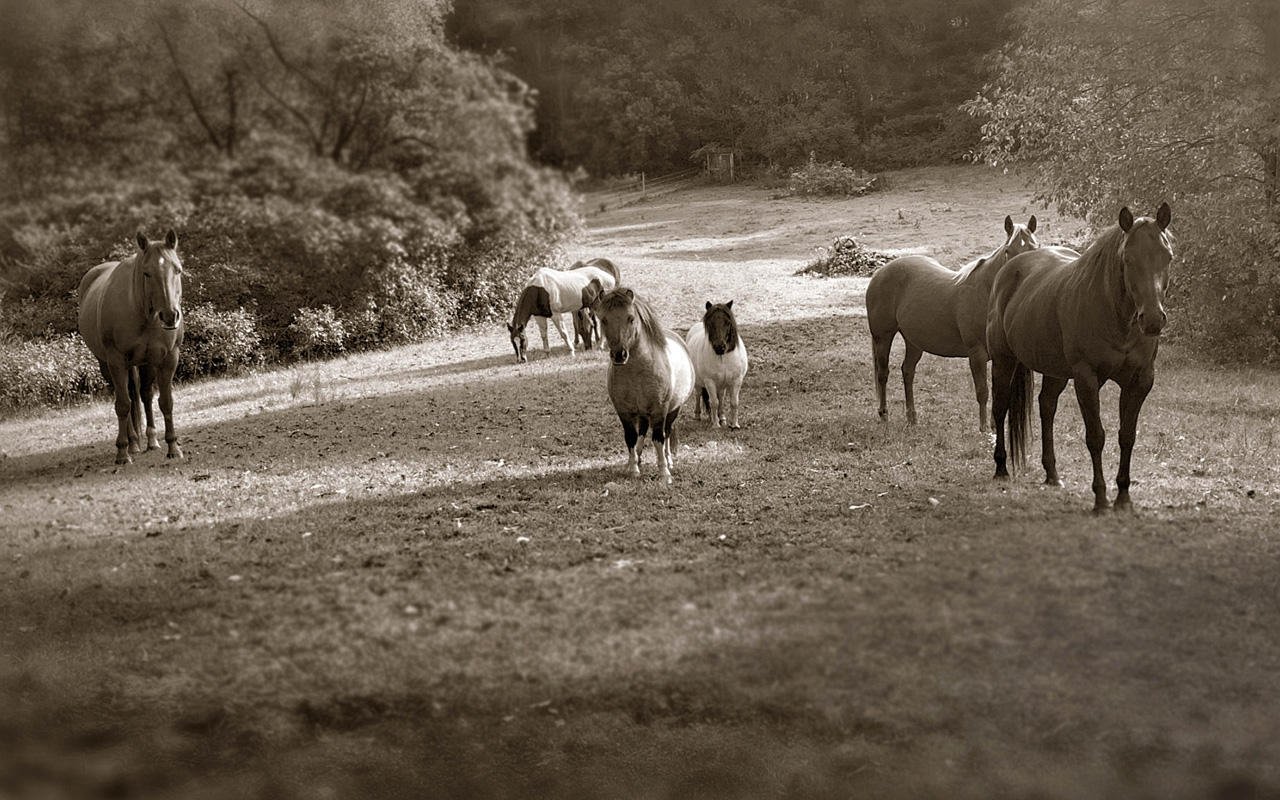 Our Herd
is currently made up of eight horses. They are big and little, young and old, and different breeds and colors, each with unique backgrounds and distinct personalities. We work together with them to keep a balanced herd, who feel supported through their work, and can intuitively offer different choices and experiences depending on what our clients need. They are definitely specialists in their fields, connecting to, inspiring and supporting people for many years. If you'd like to see more pictures of our herd and site, check out our gallery by hitting the button below.
COLLABORATIVE NETWORK | Our collection of partner organizations working together for horses and humans.