Individuals and teams of all sizes visit Red Horse to get away from the day-to-day operations and focus on aspects of their mission, vision and team dynamics.
We offer facilitated team retreats, designed to provide valuable insight about group dynamics and finding solutions for existing challenges.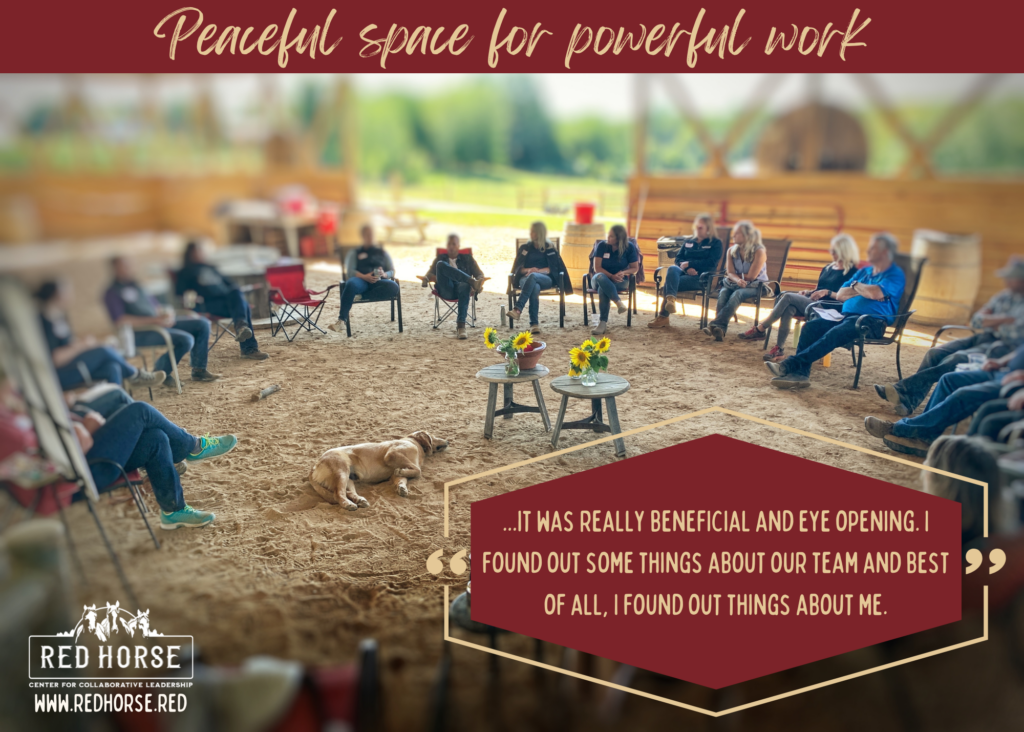 Professional retreats vary in length from four hours to one or two days. We meet virtually with leadership to get to know your objectives so we can shape a retreat to fit. Following that complimentary meeting, we create a proposal for you to review and revise. If everything looks good, we get dates on the calendar and engage your participants.
PEACEFUL SPACE FOR POWERFUL WORK
Leaders know their team dynamic benefits from a shift in perspective and the discovery that comes from having time and space to do the work.
Working on the collaborative art of being a team; fostering positive, sustainable culture does not require a crisis.
Teams with little apparent signs of stress may refresh, celebrate success, shape their next projects, or refine their vision.
Leaders who value empowering teams, making sure they are seen and heard, are well suited to experiential organizational development, especially Red Horse's equine-assisted Discover Your Herd retreats.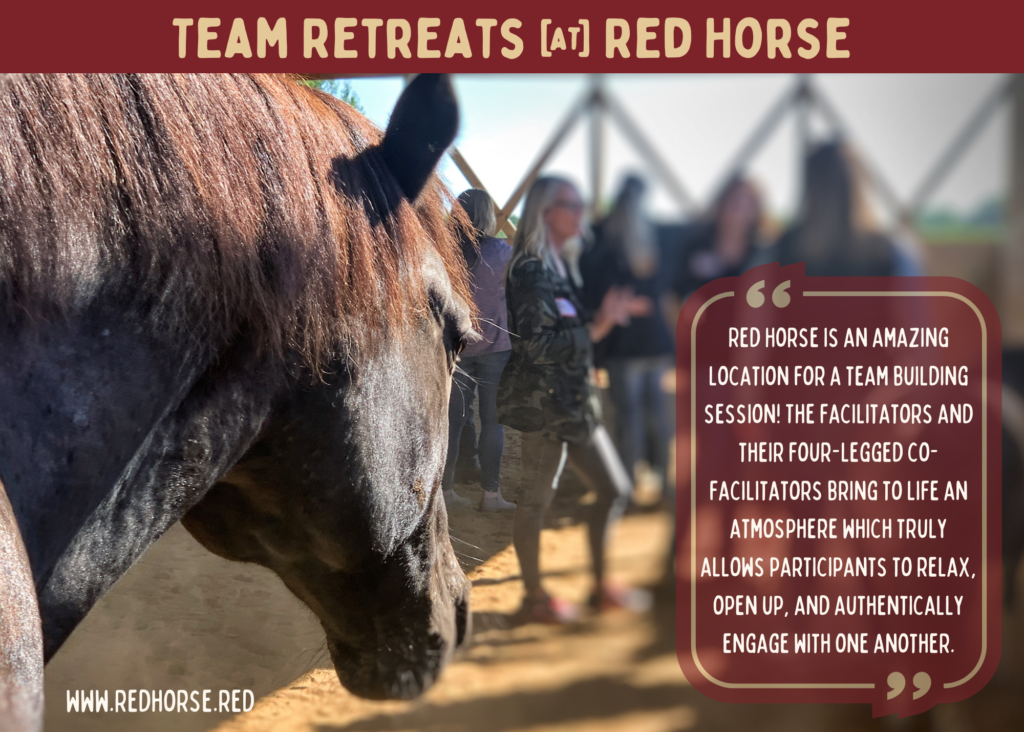 It all starts with a conversation.
What do you want to work on next?
Schedule a
complimentary chat.
Red Horse offers various educational workshops for individuals and groups; virtually and online. They focus on specific topics and may be on-demand or scheduled with live facilitation.
Healing Culture through a Trauma Informed Lens – A workshop series commited to improving the culture of service to others in all professions.
Widening Our Worldviews: W.O.W. – A training in Implicit Bias for Michigan Health Care licenses.
(three to four more on the way)
Offered to the public and available for private groups.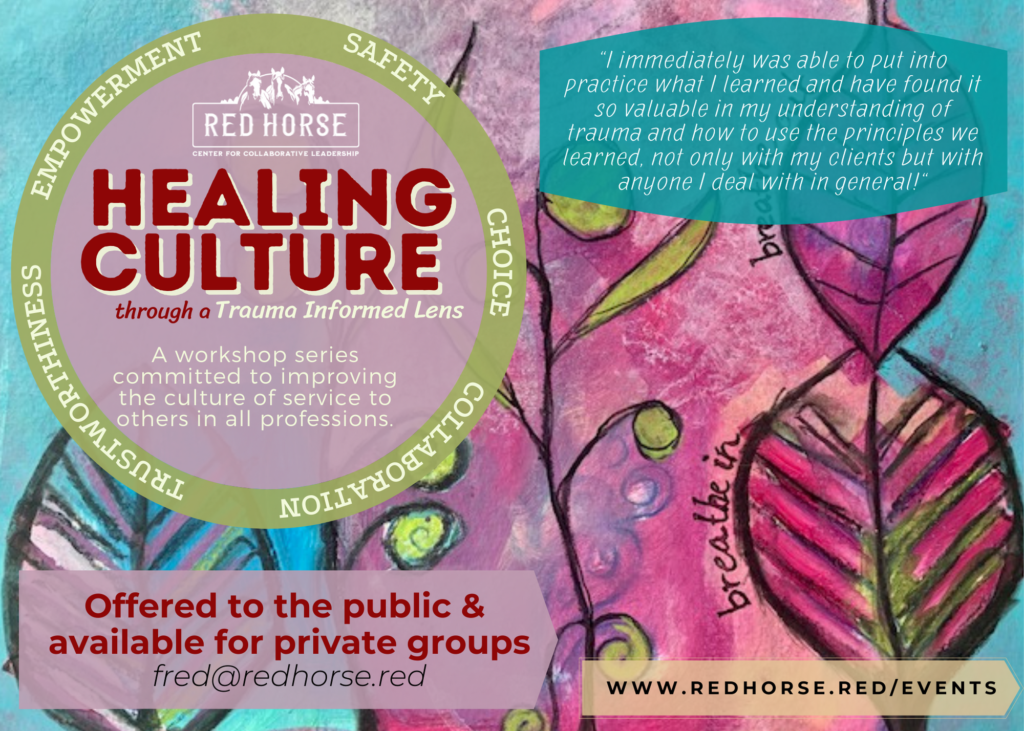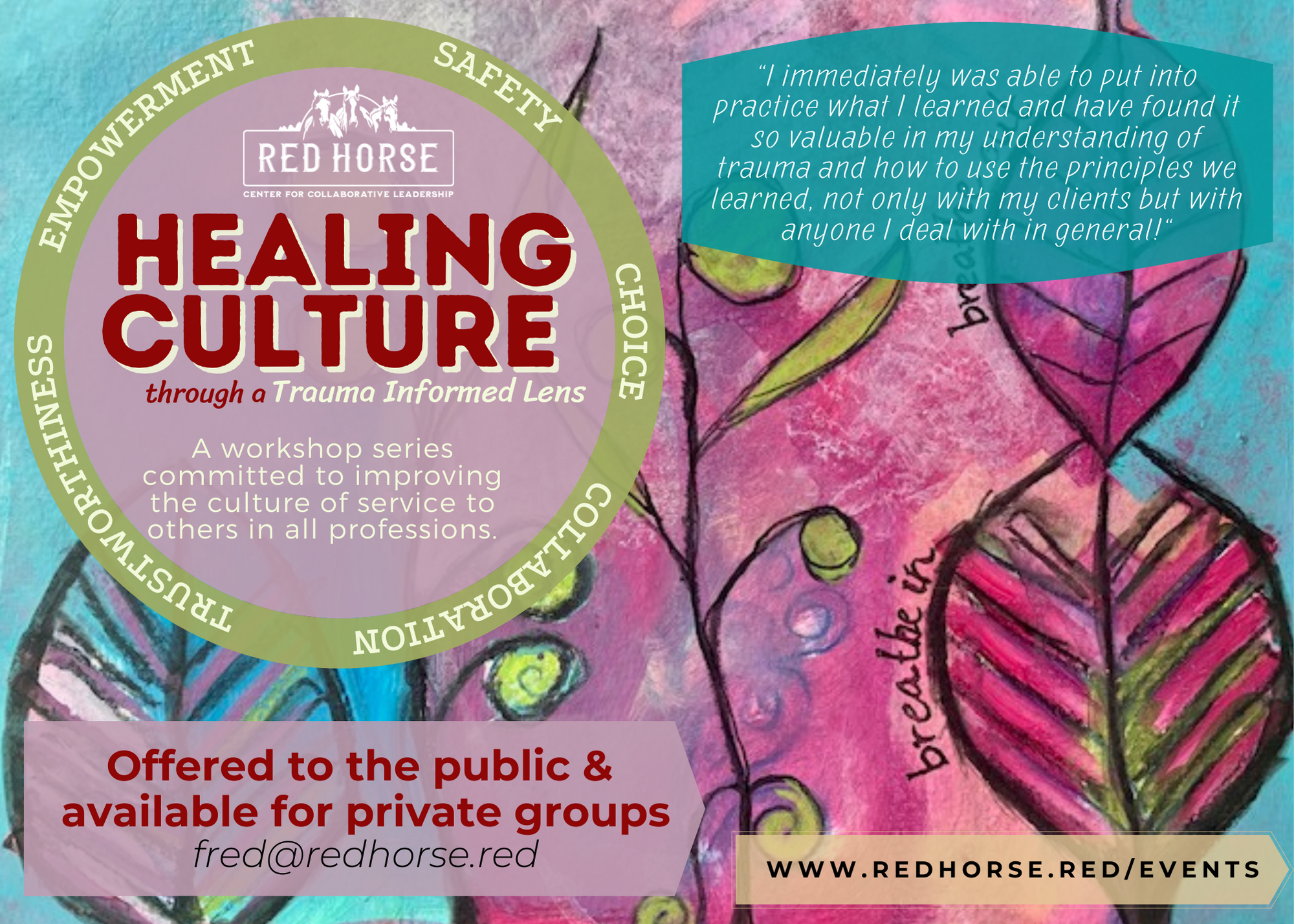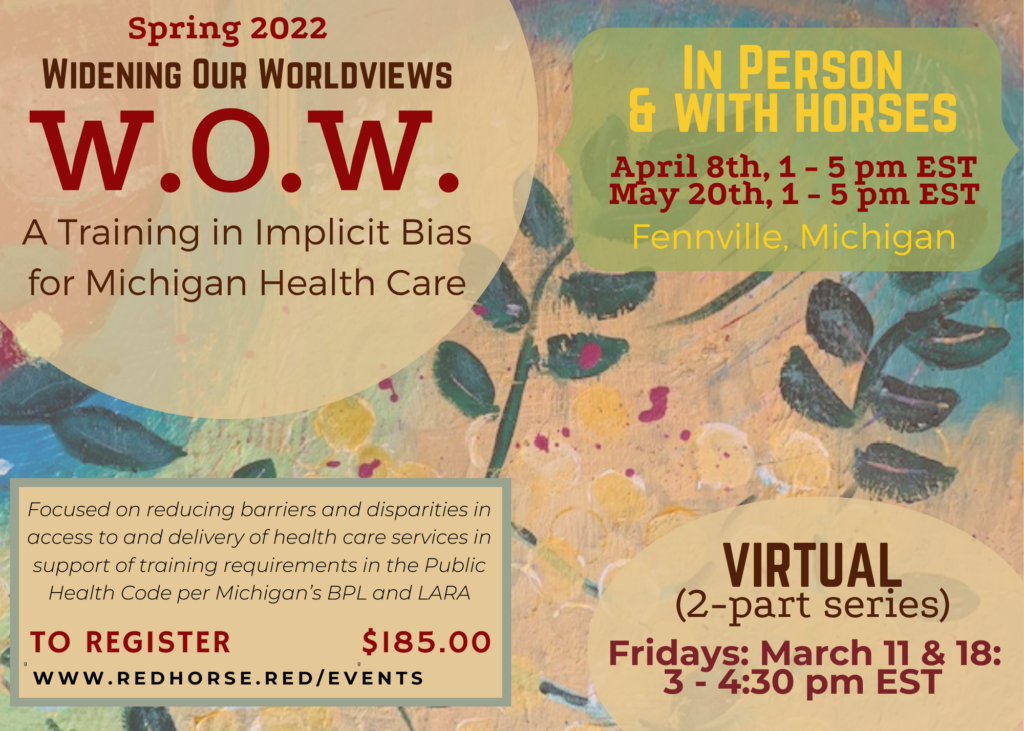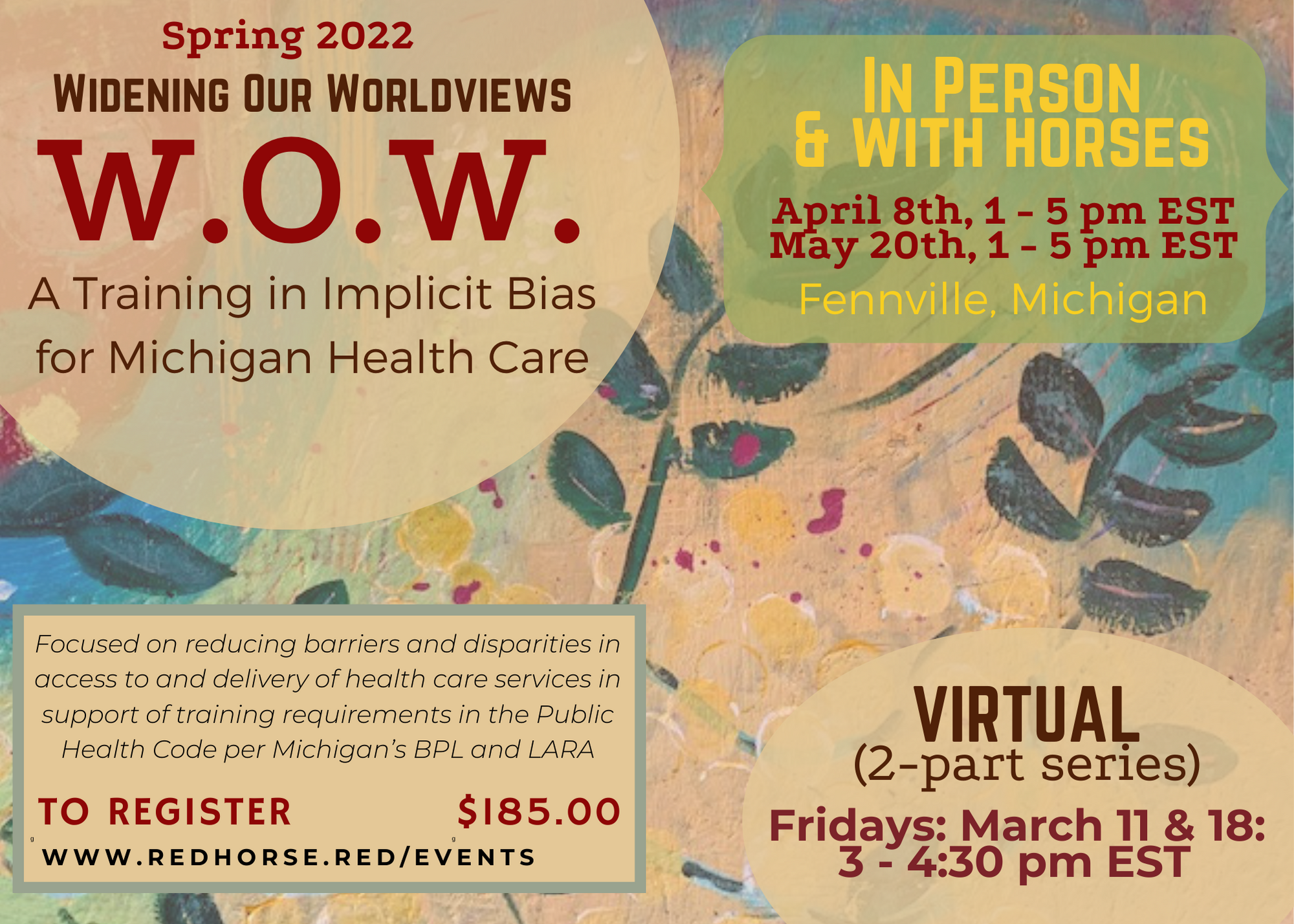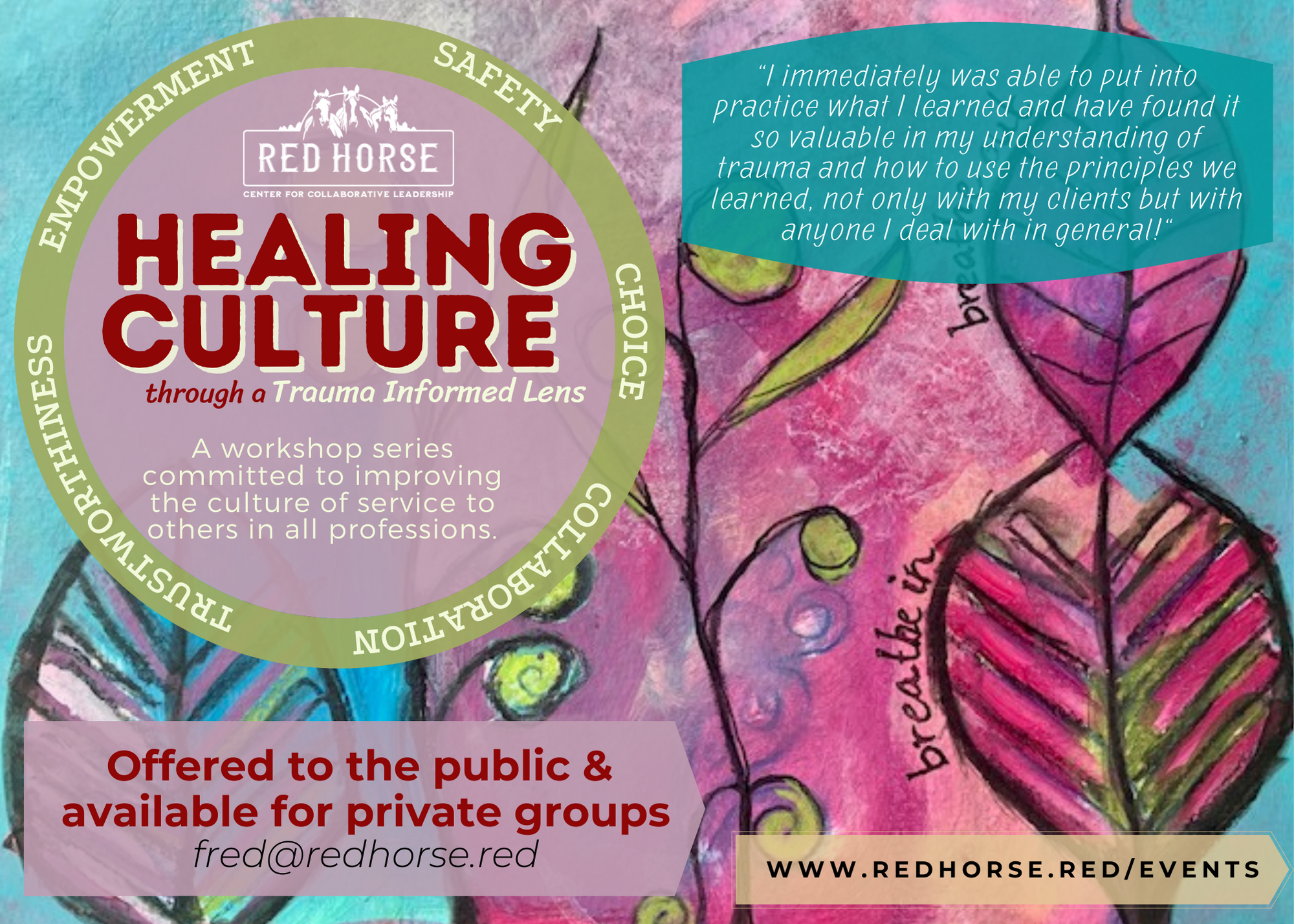 "I immediately was able to put into practice what I learned and have found it so valuable in my understanding of trauma and how to use the principles we learned, not only with my clients, but with anyone I deal with in general! "
Trauma-informed care is transformative, resonant and achievable! Throughout this workshop, I experienced change in my every day and professional life. Thank you, Red Horse Center, for inspiring honest, restorative change within ourselves to benefit our communities and world. I recommend this workshop to the curious, hesitant and brave alike. Everyone is met where they are and welcome to grow at their own pace.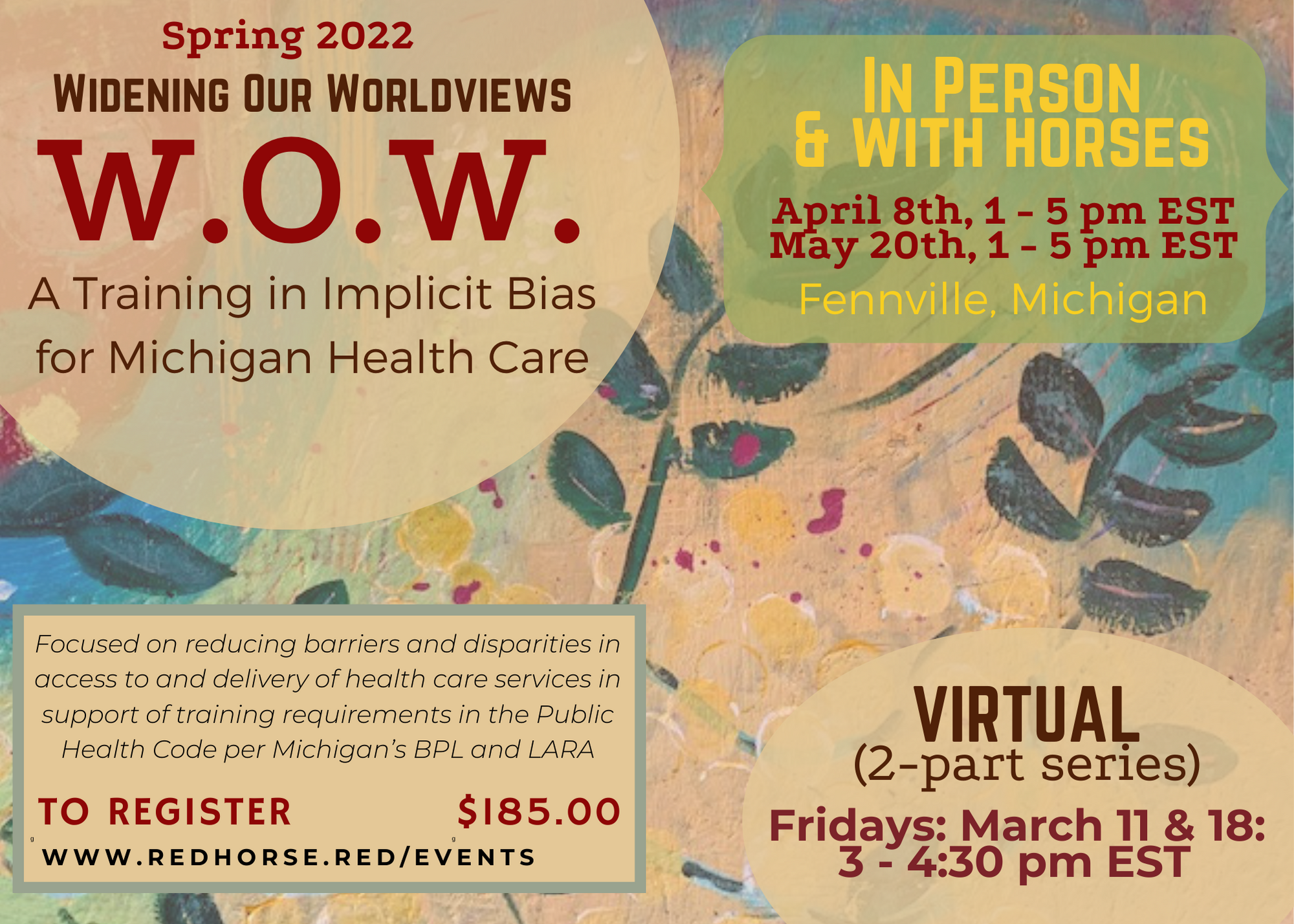 "I would highly recommend the Red Horse W.O.W. training. The Red Horse Staff was highly professional and personable. Including the horses in the training really helped me retain the information as an interactive learner over learning solely by lecture."
"Red Horse provides a unique and authentic natural environment as a platform for collaboration and professional development. It was an unforgettable and meaningful experience outside of my normal day-to-day to work with others on finding ways to make health care settings be about caring for and honoring differences."
The Red Horse Center for Collaborative Leadership is uniquely positioned to offer experiential therapy well beyond discovery and into the holy grail of getting unstuck and moving forward in hopefulness.
"Fred, Ulla and Jenny provide effective and life-altering experiences through horses, facilitating in a way that brings deep insights, learning and application. They create a peaceful, empowering environment. I highly respect and trust this team, even in the most vulnerable situations, and am grateful for the learning and impact they have had on me and my organization."
There was much to appreciate! The facilitators were excellent, bringing themselves, their gifts and sharing from the personal and professional lives. I also appreciated the interaction with the other participants, all of whom taught me something valuable. I would recommend the Trauma Informed Care Workshop for any and all therapists, working and in training. Any business culture that wants to be respectful of employees. Law enforcement and 1st responders as well, even policy makers.