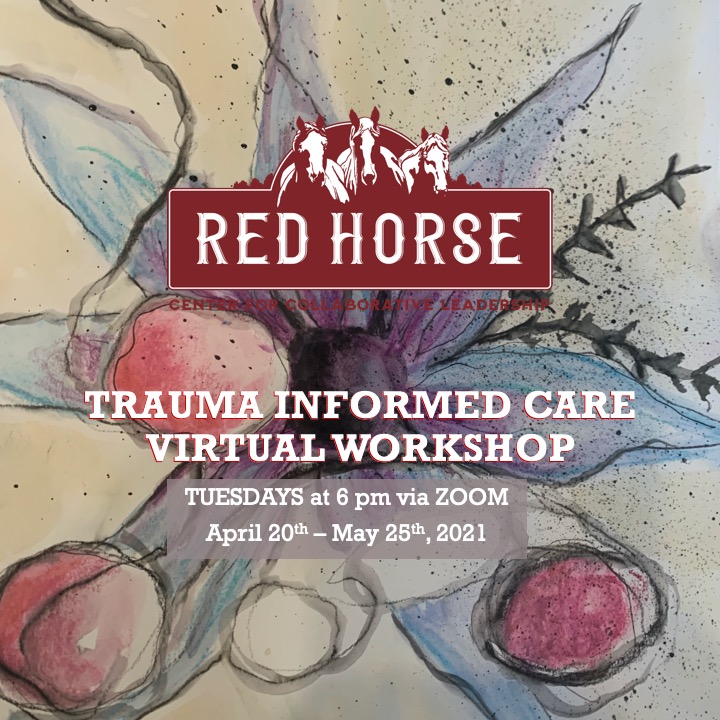 Learn about the principles of trauma-informed care as a paradigm shift for care of self and others; professionally and personally. Understanding how to implement these principles can positively influence your interactions and your ability to support clients and collaborators. Discover how to apply these insights within many professional roles, including health care, education & teachers, community support organizations, and leaders of all kinds.
Potential takeaways and skills explored include:
Fostering a positive, nurturing work environment
Empower an intentional organizational/company culture
Improved morale
Enhance collaboration and creativity
Contribute to a healthy, resilient sense of well-being in your self, and your groups.
Workshops are 90 minutes in length with
Tuesdays from 6 pm – 7:30 pm
April 20, 27
May 4, 11, 18, 25
These weekly interactive workshops take place on Zoom.  Attendees will receive a private Zoom link for each week.
Attendance is limited to sixteen attendees per workshop.
SCHOLARSHIPS AVAILABLE:  Pax Works, a generous supporter, has funded a scholarship covering 50% of registration fees for any interested participant.  Enter coupon code TIC21 at checkout to receive the discount.  We are grateful for the support!
Refund Policy:  Registrations reserve seats in a limited class, so they are by default, non-refundable.  If you need to cancel, please email us and we will do our best to accommodate a partial or full refund, on a case-by-case basis.
Visit this link to our store to register and reserve your seat.
This workshop is facilitated by Ulla Frederiksen, Fred Bueltmann and Jenny Atlee – Click for team bios.